Services
North Shore Speech & Language Services provides a full range of speech and language services. Children with a wide range of communication difficulties and challenges are serviced. Adults are also treated for stuttering/fluency challenges, accent modification and public speaking skills. Call us now at (781) 944-5866.

Our services include:
Screening for preschool aged children within preschool settings
Comprehensive evaluations for all ages, children and adult
Individual speech and language therapies
Consultative services to review a child's current program and therapies
Home or school visits (when needed)
Accent Modification program for adults
Public speaking training for older clients and adults
Therapy
Therapy is mostly delivered in an individual setting for 30 minutes (with the exception of the Accent Modification program). Time is also built-in to consult with the parent or care- provider after EACH session for the importance of carryover opportunities outside of the therapy setting. If the opportunity allows, a small group setting might be recommended as long as each client can have their goals met within this setting.
Evaluations
At North Shore Speech & Language Services, evaluations of speech and language include formal testing, informal assessment, clinical observation of your child's abilities, as well as parental input regarding your child's history of development across ALL domains, previous and current therapies and overall concerns and areas of desired progress.
Evaluations are scheduled for at least 2 hours, sometimes longer depending upon the areas of concern. These comprehensive evaluations assess receptive & expressive language skills, intelligibility and articulation, pragmatics and nonverbal communication skills, and oral motor functioning including assessment of structures, motor planning and execution abilities. Following the evaluation, a very detailed report is written which describes your child's level of functioning, relative strengths and weaknesses, clinical observations, and specific recommendations for therapy are included in this thorough
4-7 page report. A comprehensive treatment plan is also included that the family can have NSSLS address within therapy OR take back to the school and request that it be implemented by specialists in that setting.
Contact North Shore Speech & Language Services to schedule an evaluation.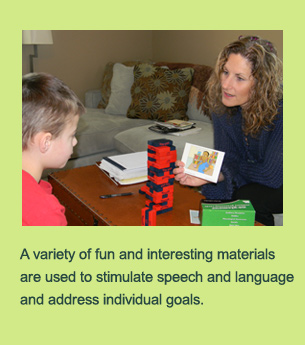 Testimonials
"We thank God daily for your presence in Vincent's life. Nothing short of a miracle. You gave our grandson a voice and it is pure magic." Mimi & Papa
~ Maureen, Grandma of a little guy with apraxia
"We have watched a girl who held back and was hesitant. A girl who cried and told me kids asked if she had an accent turn into the self she was always meant to be. We will always be more than thankful to you for your help in changing my daughter's life."
~ Susan A.