About NSSLS
Welcome to North Shore Speech & Language Services. NSSLS serves families from around the north shore and around metro-north Boston. Conveniently located in Reading, MA., the small private practice offers a range of speech and language specialized therapy and diagnostic services to mostly the pediatric population with some areas of specialty in treating the older child and adult populations.
Services provided include:
Preschool speech and language screenings
Comprehensive speech and language evaluations
Individual speech and language therapy
Small group speech and language therapy
Consultations
Adult services include stuttering therapy, accent modification & public speaking
At North Shore Speech & Language Services you can be comfortable with my 30+ years of experience in treating and evaluating children and adults with a wide range of communication challenges. Areas of specialty include developmental articulation challenges, language learning difficulties, motor planning disorders (apraxia), autism spectrum disorders (ASD) and stuttering.
Referral Process
Individuals and families interested in learning more about North Shore Speech & Language Services are welcome to call and discuss their concerns as well as have any questions answered. After the initial intake on the phone is completed, an evaluation can be scheduled.
Call us now at (781) 944-5866 or click here for more information on evaluation and services.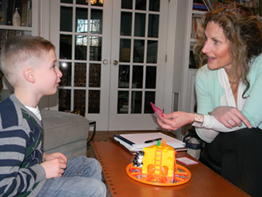 Games are usualy played during a child's session. We have many games to choose from and enjoy.
Testimonials
Dear Lorraine,
Thank you so much for helping our son, John. We (both client and parents) had such an excellent experience. John, in reflecting on his time with you stated that "Mrs. Salter did a really good job". Great praise indeed from a 10 year old! We are delighted with his speech and the confidence that this has now afforded him.
~ David G.